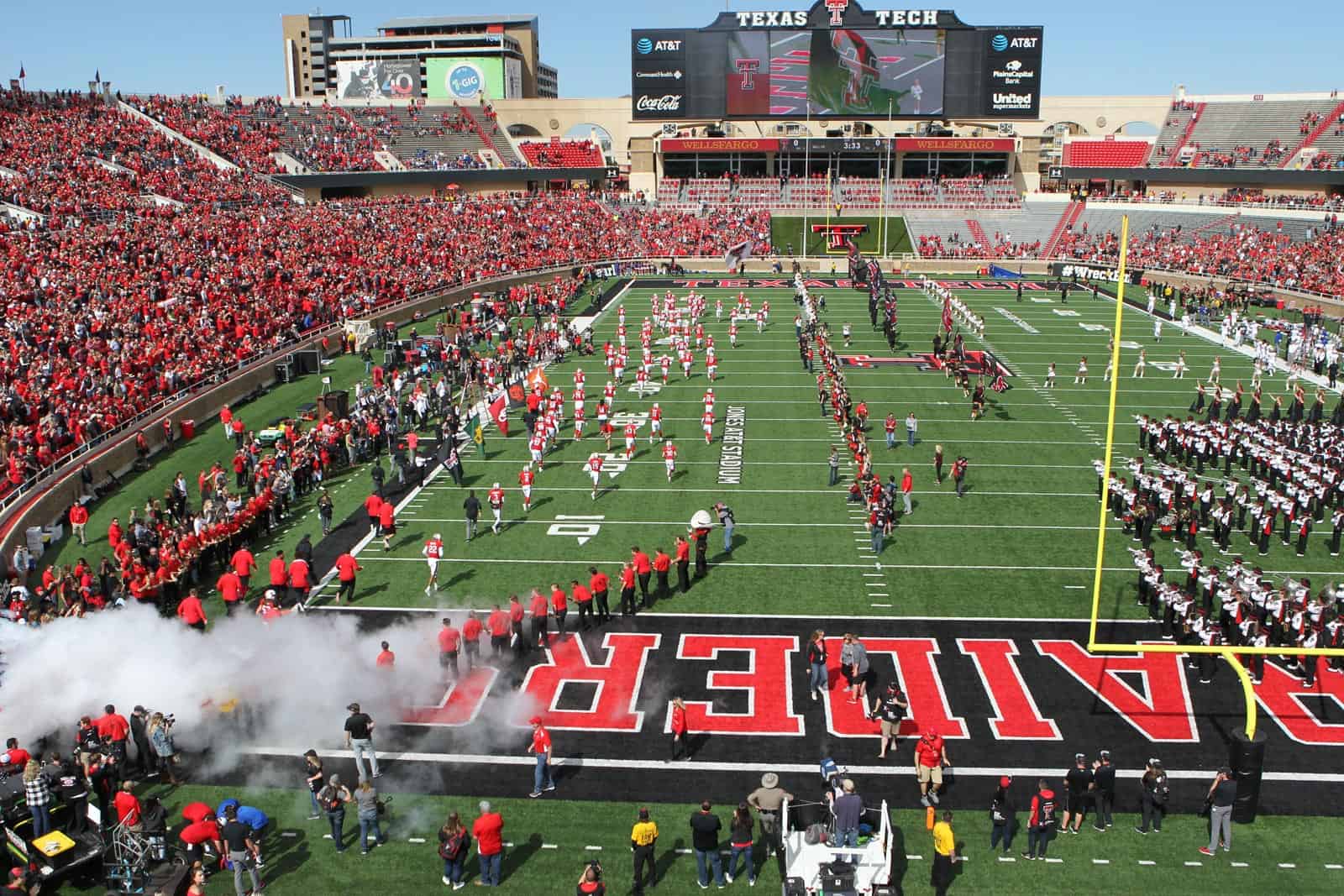 Photo cc: Michael C. Johnson-USA TODAY Sports
With Big 12 play beginning on Saturday, Texas Tech will play one of, if not the most anticipated game of their season against the 8th ranked Texas Longhorns. Coming off of two drastically different wins, Texas is looking to pick up where they left off while Tech will be looking to improve in all facets of their game. The Longhorns steamrolled UTEP in their first contest by a score of 59-3; the Red Raiders shockingly struggled against FCS foe Houston Baptist, narrowly winning 35-33. Texas jumped out to an early lead, lead by 42 at the half, and coasted to the finish. In Lubbock, Tech led by 18 in the first half but somehow found themselves needing a stop on HBU's two-point conversion attempt with three minutes remaining to seal the win.
This meeting between the two teams will be the 70th meeting in history, Texas leads the series by a margin of 52-17. The Red Raiders have yet to beat the Longhorns in Lubbock since the Crabtree game in 2008, having won only 2 contests since that point. The last nine games in this series have been during the month of November, this years' date is the earliest in the season since 2010. Combine that with the limited capacity crowd and struggling to find success on both sides of the ball in week one, Texas Tech will need everything to go in their favor to have a chance of winning.
Texas Tech's defense was exposed by HBU's Bailey Zappe and the Husky offense, posting 567 yards and four touchdowns while completing 61% of his attempts. Texas presents an even stronger and more talented passing attack. With Davey O'Brien preseason watchlist and Heisman candidate quarterback Sam Ehlinger & PFF's number one rated receiving corps so far this season, this matchup hinges on the ability of the Red Raider secondary to limit big plays. Tech's secondary looked lost for most of the game against Houston Baptist, and most importantly, couldn't make a stop late when one was needed most. In order to have any success not only Saturday but for the rest of the season, defensive coordinator Keith Patterson and secondary coach Derek Jones will need to get the coverages and assignments squared away promptly. 
On the offensive side of the ball, Alan Bowman's 430 passing yards in the opener look great on paper but don't tell the full story. The Red Raider offense struggled, posting four punts, one interception, and a turnover on downs to cap off a 15 play drive late in the 4th quarter. While Texas Tech is known for its prolific, high scoring offense, it looked merely pedestrian against HBU. With the embarrassment of a two-point victory over an FCS program lingering for two weeks, Tech's offense should be expected to make a few adjustments and rebound quickly. It should be noted that the game was Texas Tech's first and HBU's second of the season & around the country, teams that had yet to play and/or hadn't had a full offseason due to COVID were seemingly rustier than usual. 
The timing of this year's matchup versus the Longhorns looks to be less than optimal for Tech's chances of pulling an upset in Lubbock. The Red Raiders should give Texas more resistance moving the football this week compared to UTEP two weeks ago, but likely not much more. The Texas defense will certainly be facing a much more talented and capable skill group, but the offensive line of Texas Tech will be tested to hold off Joseph Ossai and the rest of Texas' pass rush. Wells' crew will have to wait another year to bring the Chancellor's Spurs back to Lubbock as Texas will dominate this game on both sides of the ball and cruise to their second victory of the season.
Prediction: Texas 49 – Texas Tech 24
Follow Guns Up Nation on Facebook and Twitter for all the latest Texas Tech news.