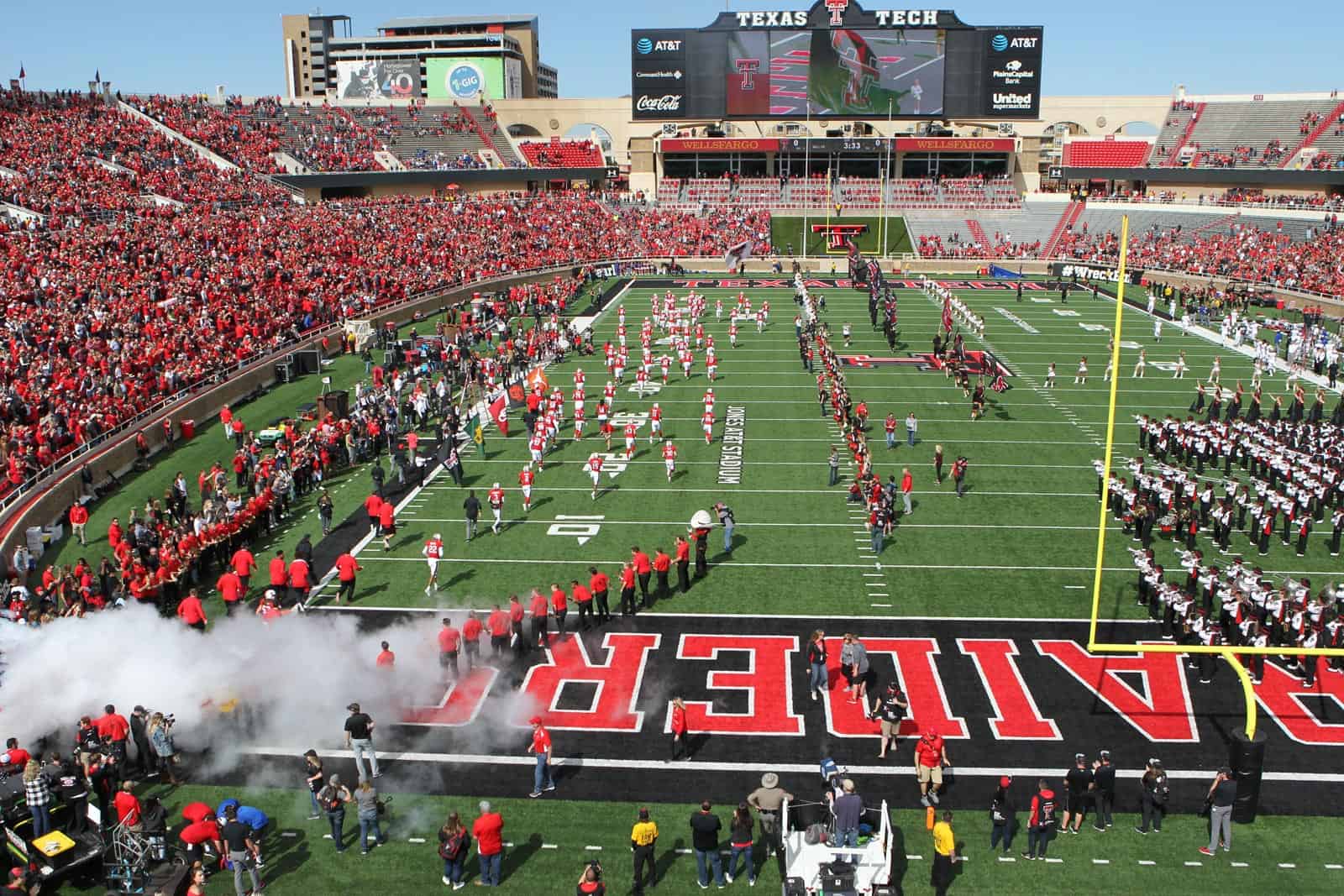 Photo cc: Michael C. Johnson-USA TODAY Sports
Rolling into the third week of conference play, Texas Tech and Iowa State find themselves on opposite ends of the Big 12 leaderboard. Fresh off of a home win against Oklahoma, Iowa State sits atop the conference with a 2-0 record, tied with Kansas State and Oklahoma State. Meanwhile, the Red Raiders find themselves in an early-season hole, beginning 0-2 sharing the last spot on the chart with Kansas and Oklahoma. After holding a lead in the fourth quarter for the second week in a row, Tech couldn't come up with stops at the right time in order to close the game out. With Iowa State riding momentum off of an upset victory last weekend, Tech will need to create and sustain momentum early in the matchup if they wish to leave Ames victorious.
The Texas Tech offense has shown the ability to move the football, as they currently rank 9th in the country in total offense, 8th in pass offense, 5th in first downs, 9th in 3rd down conversion percentage, has yet to lose a fumble on offense, but only 21st in scoring offense. So where is the disconnect between the yards and points? The 2019 team struggled to finish games, and finishing drives have been a struggle so far. Texas Tech ranks 63rd in the country in red-zone offense (scoring TDs and FGs). Quarterback Alan Bowman's status is "day-to-day" according to Head Coach Matt Wells. Henry Colombi was admirable coming in last week against Kansas State, but whoever takes snaps against the Cyclones needs to make their best plays as the field shrinks.
Tech has shown that it has 2 very capable running backs that could bring some balance to this offensive attack. SaRodrick Thompson and, with the emergence of Xavier White, Tech boasts a rushing attack that ranks 29th in the country averaging 5 yards a carry and 169 yards per game. Iowa State's defense is led by a front 7 that leads the Big 12 in sacks. However, they rank in the bottom of the Big 12 in terms of the number of passing yards given up and have given up at least 30 points per game in conference play. Iowa State plays a lot of cover 2, which would make sense with a pass rush that has been so dominant as this makes quick-hitting passes harder to complete. Texas Tech has only allowed 1 sack this season, so it will be interesting to see how the battle in the trenches unfolds.
Keith Patterson is in for yet another tough week of preparation, gearing up to face Iowa State's third-year starting quarterback Brock Purdy and a physical ground attack supporting him. Purdy is the fourth veteran QB Tech has faced in as many games. Through three games, Purdy looks to be having an average year statistically, completing just 56% of his passes and has thrown only two touchdowns thus far. However, in the Cyclones two Big 12 games, he is completing 63.8% of his attempts, averaging 232.5 yards, and has yet to throw an interception. Their offense has run through running back Breece Hall, who has five touchdowns in conference play while averaging over six yards per carry. The Red Raider front 7 will need to have a far better performance against the run Saturday than they have shown the past two weeks in order to keep ISU in check. Tech has given up 412 yards on the ground in two Big 12 games, ranking ninth ahead of only Kansas. The Cyclones will look to establish the run early against the soft run defense of Tech who allowed Kansas State running back Deuce Vaughn to average over seven yards per rush last week. Limiting chunk plays both on the ground and in the air will again be an emphasis for the Texas Tech defense in order to give the team a shot at pulling off the upset in Ames.
Prediction:
With the QB status up in the air for Texas Tech, either a less than 100% Bowman or Colombi, Saturday's contest in Ames looks to be a daunting task for this Red Raider team. Nevermind the fact that Texas Tech has to play the team that just knocked off Oklahoma for the second week in a row, the Red Raiders have blown two fourth-quarter leads in a row. In order for Texas Tech to come out on top, they're going to need a game-changing play or two from the defense and/or special teams. Expect Iowa State to pound the rock on the ground early and often, wearing down the Tech defense over the course of the game. – Trevor Williams
Iowa State 42 Texas Tech 27
In terms of where both programs are currently at, Iowa State is clearly ahead of Texas Tech. But college football is a funny sport. Iowa State has a bye week and then a massive matchup against Oklahoma State. The energy in Jack Trice stadium won't be near as gassed up as it was hosting Oklahoma a week ago. Texas Tech finds a way to close out a 4th quarter lead in Big 12 play and gets its first conference win of the season. – Andrew McCleary
Texas Tech 31 Iowa State 28