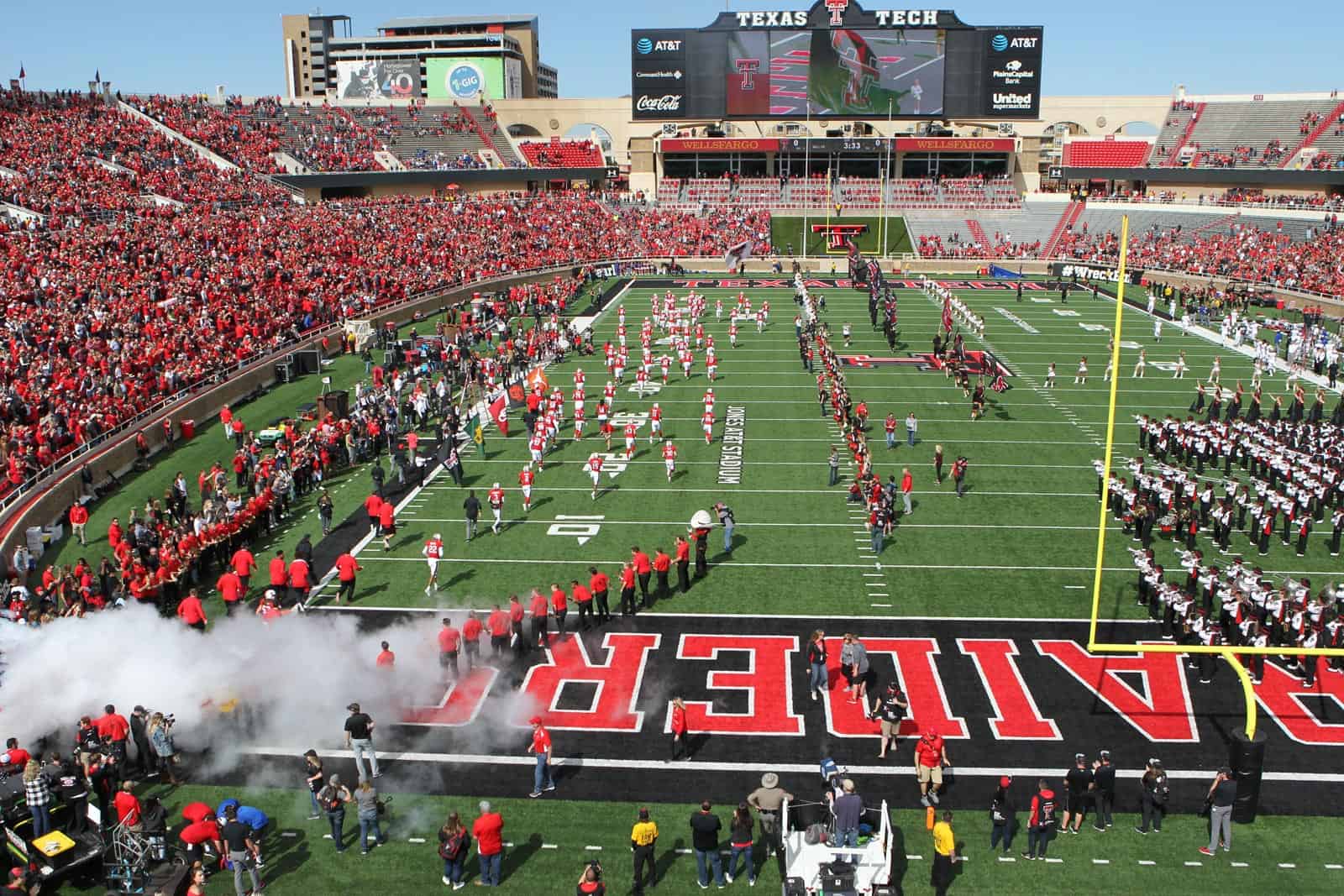 Photo cc: Michael C. Johnson-USA TODAY Sports
In what's been a season that many would like to forget, Texas Tech has an opportunity to close out the 2020 campaign on a strong note. With Baylor this weekend and Kansas two games later to finish off conference play, Tech could double its win total thus far and cap this season off winning two of their last three. Both games are in Lubbock and the opponents are a combined 1-10 in Big 12 play. With that being said, the way the Red Raiders have been playing, it's safe to assume both Baylor and Kansas are looking at the contest as a winnable one for their squad as well.
The Baylor Bears will get their chance this Saturday at Jones AT&T Stadium, entering with their lone conference win coming in their first game of the season against Kansas. Since then, they have dropped four straight games, showing signs of growing pains in an irregular inaugural season for head coach Dave Aranda. Aside from the shortened offseason due to the pandemic, Aranda was handed a defense that returned only two starters from last year's team. Combine that with three games that have been canceled or postponed, it's fair to say this season has been especially tough on Baylor. Tech will look to take advantage of the inexperienced road team and curb a two-game losing streak in the series. With Tech having both offensive and defensive struggles of their own to figure out, this game could easily be decided by a key play or two.
Reports late in the week seem to indicate that both Alan Bowman and Henry Colombi will see time behind center. Lack of consistency from the signal-callers this season has been a contributing factor to the worst offense Tech has fielded in many years. Averaging only 409 yards per game this season, Tech ranks 6th in the Big 12 in total offense. A sharp decline from the past four years in which the Red Raiders averaged 500 yards per game and finished outside of the top three in total offense conference-wide only once. Barring an offensive explosion over the final three games, David Yost will likely be replaced for the 2021 season. The play-calling has often lacked creativity and resulted in a predictable play style that has limited the big-play ability that many Tech skill players possess. With a pair of opportunities ahead against two of the bottom, three teams in the Big 12, Yost, and the Tech offense have the opportunity to salvage their identity going into the offseason.
Baylor announced early this week that star linebacker Terrel Bernard will miss the remainder of the season with a shoulder injury. The void this leaves in the Baylor defense cannot be understated. Bernard has been the Bears best player on defense this season leading not only the Bears in tackles per game but the entire conference with 11. He also leads the team in sacks with 3.5 and has an interception for good measure. The Baylor defense has been stingy against passing attacks thus far, ranking 3rd in the Big 12 giving up only 188 yards per game. However; on the ground, they are giving up over 180 per contest including a whopping 247 two weeks ago against TCU. The Red Raiders should look to the run game this weekend as the main offensive emphasis, especially with the uncertainty surrounding the quarterback situation. With a stable of serviceable running backs, keeping them fresh and slowly grinding down the Baylor defense appears to be the best gameplan for a successful offensive day this Saturday.
The Baylor offense against the Texas Tech defense is the battle of movable object vs stoppable force. Baylor ranks 72nd amongst FBS teams averaging 225.6 yards per game through the air. The Bears clearly still need to "learn how to walk before they run" as they are only running for 88 yards per game, which ranks 117th of the 123 FBS teams to take the field this year. Baylor does not have a single rushing touchdown this season. Those two mediocre attacks have resulted in Baylor averaging 27.6 points per game, 75th best in the country.
Last week against Iowa State, Baylor's offense appeared to show its first real signs of life as they broke the 30 point barrier for the first time all season in a losing effort at Iowa State. While Charlie Brewer averaged almost 14 yards a completion last week, he still turned the ball over twice. Brewer also has been under pressure all season, as he has been sacked an average of 2.8 times a game. All the pieces are there for a "get-right" game for this defense that has been struggling this year.
And it's been no secret that this defense has been struggling. Texas Tech has allowed a disturbing 40.1 points per game this season. Opponents are averaging more than six yards per play, including 7.9 yards per passing attempt against the Red Raiders. Baylor's struggles running the ball have already been discussed, but if they were to break through it would be against a Texas Tech defense that allows 175.4 yards per game, 4.5 yards per carry,ing and 18 touchdowns on the ground this season. In terms of generating turnovers, the Red Raiders have only generated 3 over the last 5 games. But there has been a lone bright spot:
McPherson always seems to find himself around the ball at an opportune time in the game. Those 3 turnovers generated in 5 games? All of those belong to McPherson. Tech has got to generate pressure on Brewer. Brewer has shown he can be forced into bad decisions, and when done so, McPherson inevitably will be there to make a huge play.
Predictions:
Both teams have struggled mightily so far in 2020. Baylor has been within 2 scores in every game they have played. Outside of the Oklahoma game, Tech has scratched and clawed to be in every game late in the 4th quarter. Someone has to win this game. The home team makes fewer mistakes than the road team and the Red Raiders pick up their 2nd Big 12 win of the year. – Andrew McCleary
Texas Tech 38 Baylor 35
On paper, this matchup looks to be a toss-up. Both programs are going through their own struggles and looking to end the year on a positive note giving their fan bases optimism for 2021. The losses of Bernard at LB and Williams at RB, the Bear's best defensive player, and leading rusher, will hurt Baylor and leave lots of production to be made up. In Big 12 play, Texas Tech is averaging over 39 points per game when at home & just 18 when on the road. They also have a little unfinished business to take care of from last year's 2OT loss in which an officiating mishap should have sealed the win for the Red Raiders in Waco. Tech wins a close one and matches last year's conference win total with two games remaining. – Trevor Williams
TTU 28 – Baylor 27