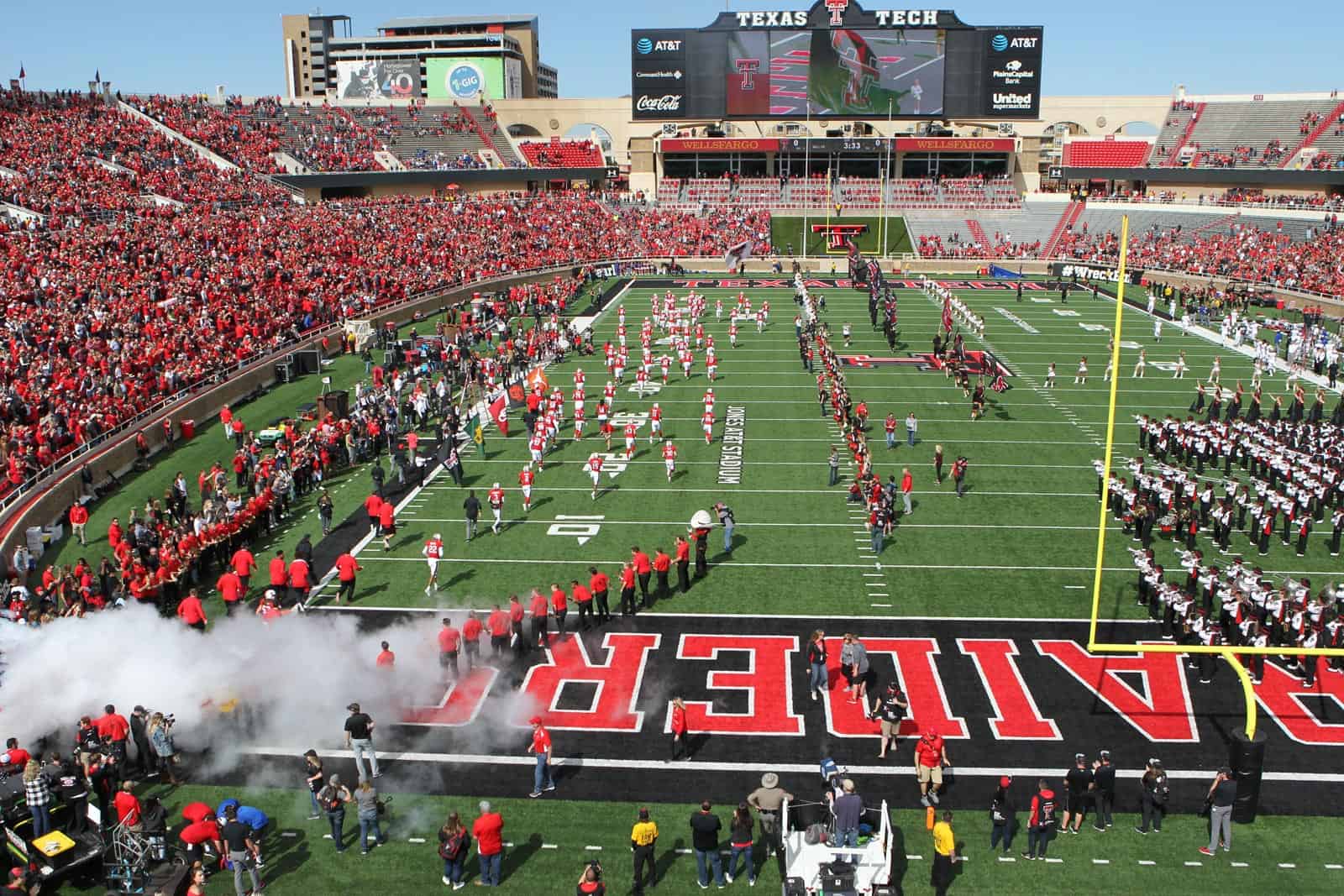 Photo cc: Michael C. Johnson-USA TODAY Sports
This Saturday, the Texas Tech Red Raiders travel to Stillwater to face Oklahoma State in their last road game of the season. Tech is 0-3 on the road so far this year and is looking to avoid going winless as visitors in Big 12 play for the first time in history. For Oklahoma State, the Cowboys are looking to close out their year similar to how it started. Climbing all the way up to #6 in the country after starting 4-0, they have dropped two of their last three including last week's 28 point loss in Bedlam versus OU. Tech enters the weekend with two weeks of rest and is on a two-game winning streak against the Cowboys. If Oklahoma State wants a chance to compete in the Big 12 title game, they need to win out and need both Texas and OU to drop a game in the process. For the Red Raiders, a victory Saturday would give them a path to .500 play, entering the final game against Kansas at 4-5.
Two weeks ago against Baylor, the Tech offense put up a rather peculiar performance. Both Henry Colombi and Alan Bowman attempted over 15 passes apiece but threw more touchdowns to Baylor via pick-six than to Red Raider receivers. In fact, it was Bowman's first passing attempt of the day that was returned by the Baylor defense for their first score. Bowman, however, rebounded nicely leading the Tech offense in the comeback victory over the Bears. This week's matchup in the passing game will be no easier for the Red Raiders with the Cowboys defense averaging over three and a half sacks per game and allowing only 188 yards through the air on average. Leading the OSU defense is a pair of Senior Linebackers, Malcolm Rodriguez and Amen Ogbongbemiga, who were both 2nd Team All-Big 12 last season. The duo has combined for 100 total tackles and five and a half sacks so far this year.
On the ground, the Cowboys are less stringent, allowing close to 150 yards per game, but the Red Raiders have struggled to be consistent rushing the ball this season. The key to offensive success this week will be similar to that of previous matchups this season: keeping the defense honest with a mix of deep shots and finding success on the ground to keep the pass rush at bay. As seen throughout the year, there will be plenty of screen passes used in an attempt to balance out the Cowboy's pass rush. Averaging just 18 points per road contest so far this year, Tech will need to capitalize on every opportunity in Cowboy territory in order to give themselves a chance at winning.
Oklahoma State's offensive attack hasn't been able to put it all together for this season. Injuries certainly have taken their toll on the 'Pokes offensive attack. But this was a team that had 3 All-Big 12 preseason selections on the offensive side of the football. Between Chubba Hubbard in the backfield and Tylan Wallace on the outside, Oklahoma State was supposed to have the best RB/WR combination in the Big 12. Hubbard is averaging 123 yards a game and 4.7 yards a carry through 7 games, which ranks for 3rd best in the Big 12. Tylan Wallace leads the Big 12 in receptions per game and receiving yards per game. Even without consistent quarterback play, the Cowboys have shown they will move the ball up and down the field. Oklahoma State averages 404.4 yards a game, 4th best in the conference. However, even with all the great statistical achievements from some key individuals, the offense has not produced big points.
Oklahoma State currently averages 25.9 points per game, which ranks 7th in the conference. They have only scored above 30 points in 2 of their 7 games this season. Remove their 47 point outburst against lowly Kansas, their average points per game drops to 22.3, which would be only better than Kansas. One of the reasons that have kept their scoring down is their inability to hold onto the football. Oklahoma State ranks 8th in the Big 12 in turnover margin at -4, committing a total of 10 turnovers on offense.
Texas Tech's defense has shown improvement over the last 2 weeks. They have surrendered 28.5 points in their last 2 games after a horrific showing against Oklahoma. Back-to-back games with a Zech McPhearson turnover and a statement tackle by Colin Schooler has this defense building confidence.
The defense has allowed only an average of 351.5 yards per game in the last two as well, with only 113 of that average being through the air. The rush defense certainly will have its work cut out for it as even though the Tech defense has improved, it's still giving up higher average yards per carry than what Hubbard is currently averaging. The defense is surrendering 4.9 yards per carry. It also struggled to contain the Big 12's best running back in Breece Hall earlier this year. He ran for 135 yards on 27 carries (5.0 yards per carry) and had 2 touchdowns. Can Texas Tech force Oklahoma State into a one-dimensional offense? If they can find a way to limit the rushing attack, and force Oklahoma State into throwing into the strength of this defense, the defense will put the Red Raiders in a great position to win.
Predictions:
Tech has been a different team this year on the road. If the location of this contest was in Lubbock, the Red Raiders would have a better chance at pulling the upset. The inconsistencies and lack of explosiveness on offense make it hard for Tech to compete at a high-level week after week. Let alone the continuously changing of hands at the QB position keep the offense in a constant state of flux. Oklahoma State will hold the Tech offense in check and make life hard on the defense as the game progresses. The Red Raiders will drop to 3-6 with a chance to end the year at 4-6 at home versus Kansas next week. – Trevor Williams
OSU 38 – TTU 17
Texas Tech is looking to win back-to-back Big 12 games for the first time since October 11 and October 20th of 2018. Oklahoma State suffered a massive blow to its pre-season expectations of reaching the Big 12 championship game after getting thumped by Oklahoma last week. An 11 am local kickoff in Stillwater after the Thanksgiving holiday will have a less than an electric place for the home team to play. Texas Tech catches an unmotivated Oklahoma State team off-guard and wins its 3rd consecutive game against the Cowboys. -Andrew McCleary
Texas Tech 34 Oklahoma State 27