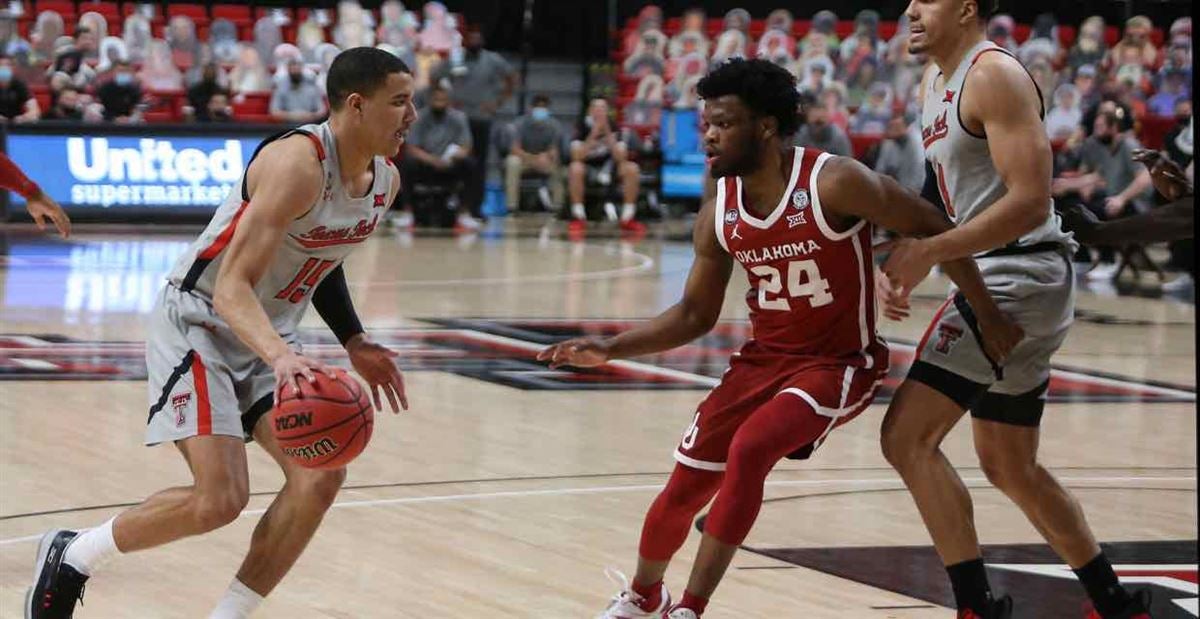 Despite losing some key guys, Tech is looking to put a solid starting five on the court to compete for a Big 12 Title and make a deep run come March in the NCAA Tournament.
PG: Mylik Wilson
Wilson will look to take the reins for Tech basketball at the Point Guard position and run the offense. I think he secures this spot because of his athleticism and skillset. Last year at Louisiana, Wilson averaged 12.9 points, 5.5 rebounds, 3.2 assists, and 2 steals per game. He knows how to handle the ball and slow down the offense and set the tempo, and he has a very freakish athletic ability to where if you see him coming down lane get out the way or he will make you pay. Wilson also has the shooting skill and playmaking ability to make him a lethal point guard, and his defensive skills will fit right in with Big 12 guards.
SG: Sardaar Calhoun
I think Calhoun is the perfect fit for Shooting Guard for Tech and the many ways he can contribute. I mean talk about a "shooter" because that's exactly what Calhoun is. His game is so smooth and good, he will fit in right at home with Tech. He shot 40% from 3-pt last season while at Florida State. And like Wilson, his athletic ability is insane, because when he gets the ball in his hands he is not afraid to throw it down on you. But Calhoun has a great length and long arms to develop into a really great defender for Tech. But look for this guy to shoot lights out in games and be one of their best shooters this season.
SF: Chibuzo Agbo
I think Buzo will be one of the biggest sleepers on this team and in this starting five. Despite not playing very many minutes last season, I think he has made the biggest jump this offseason, in the gym and in the weight room. He plays tough whenever he does get a chance, and I think Lubbock and the Big 12 will see his skills on display that he has to offer. I think Buzo will be a factor on the class and using his length to get rebounds, but when he steps out to the three-point line if you don't step out to him he will certainly make you pay. He will be a big contributing factor for Tech and will soon make his name known.
PF: Kevin McCullar
McCullar is one of Tech's two returning starters and will certainly be one of the team's leaders on and off the court. He had new career highs in points per game as he averaged 10.4 points, 6.3 rebounds, and 2.1 assists per game, and 1.7 steals a game last season. He has turned into one of Tech's top defenders, and you can see him every almost every game guarding the opponent's best player. McCullar is a fantastic rebounder despite being 6'6, he certainly plays bigger than that and is one of the reasons Tech will have a chance to be at the top of the Big 12 once again. He is ready to take the reins for this team and lead to the National Championship once again, although he wasn't physically playing on the team he was here in Lubbock practicing and with them every step of the way, so he knows what it takes to win.
C: Marcos Santos-Silva
Marcos will look to be the starter again for the Red Raiders at that Center position. Transferring from VCU last season, he fit right in with his tough mentality and play. He may not be the biggest center, but if you need a rebound he will surely go get it for you. The thing I love about him is he doesn't have to grab the rebound directly but he has the IQ and skills to where he knows exactly how to tip it, or where to tip it so his teammates have a chance to get to it or he himself has a chance. When he does get the ball in the post, he has excellent footwork and post skills to work to that left hand and hit those baby hooks. Going into his last year of college ball thanks to the extra year of eligibility, look for him to go all out and hold nothing back.
This starting five is certainly different from last year's but trust me when I say they will come to compete. These guys have already bought into what Adams and his staff want to do otherwise they wouldn't be here. They certainly have the skills to compete for a Big 12 Championship and if they can learn to come together maybe even a National Championship. The USA should be a place to be this season, and this team should be one to watch by the whole country because they may be doubted by many but they will make some noise. Can't wait to see what this team brings to the court and what I know they can accomplish if they play to the best of their abilities.