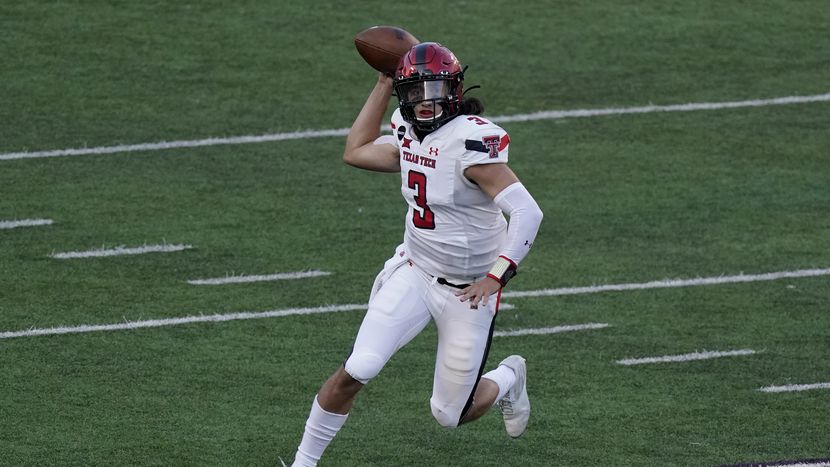 The Red Raiders did not look like the team we have seen the past three weeks and suffer a huge loss Saturday losing to Texas 35-70 dropping their first conference game of the season.
First Quarter:
Tech came out slow once as a whole on both sides of the ball and Texas made them pay for it.
The Longhorns scored on both of their opening drives in the first quarter after Running Backs Bijan Robinson and Roschon Johnson had their numbers called to give Texas the early 14-0 lead.
The Red Raiders would answer back with a score of their own on a nice drive after a couple of nice plays by Wide Receiver Erik Ezukanma and nice runs by Running Back Sarodorick Thompson to get Tech in scoring position.
This drive would take them into the second quarter but Quarterback Tyler Shough would take this one in himself from six yards out to close the lead and bring the score 7-14.
Second Quarter:
Texas Tech really struggled on defense, they could not stop the Longhorns offense all game and it really showed in the 2nd quarter.
Texas was driving up and down the field with ease, and they got on the scoreboard again after Quarterback Casey Thompson did it himself to give the Longhorns the lead 21-7.
On Tech's next drive, Shough would get picked off by cornerback Josh Thompson to give Texas the commanding lead 28-7. Shough would not come back in the game after this, as he would be out with a shoulder injury. Henry Colombi would play the rest of the way.
The Longhorns would force a turnover on downs and score quickly after a 23-yard touchdown pass from Thompson to Wideout Xavier Worthy to extend it to 35-7.
Colombi would lead the Tech offense on a quick touchdown drive to close the gap after a 40-yard dime to Wide Reciever Myles Price to bring it to 14-35.
The defense was nowhere to be seen and just allowed Texas to do whatever they wanted on offense. The Longhorns would score once again right before the half after Johnson gets his second rushing touchdown of the game, to extend their lead to 42-14.
Third Quarter:
Tech and the Longhorns would trade interceptions after linebacker Luke Brockermeyer picked off Colombi, and a couple of plays later the Tech defense finally made an appearance after Dadrion Taylor-Demerson picked off Thompson.
Tech could not take advantage and be forced to punt to D'Shawn Jamison who is one of the more dangerous returners in the game who took it all the way back to the 7-yard line. Thompson would get his second touchdown pass of the game after a five-yard pitch and catch to Wideout Jordan Whittington bringing it to 49-14.
Colombi and the Red Raiders offense would strike fast after a deep ball pass to Receiver Loic Fouonji for a 69-yard TD to show some signs of life down 21-49.
The Longhorns would respond after a 3-yard TD pass from Thomspon to Worthy to go up 56-21.
Colombi, being the only bright spot of today's game, really showed his arm strength and deep-ball ability and would show it once again after a 75-yard bomb to Kaylon Geiger for the touchdown to close it to 28-56.
Thompson would hit Worthy once again for his third receiving touchdown of the game after a 62-yard completion to go up by an embarrassing count of 63-28.
Fourth Quarter:
Opening the fourth quarter, still, no defense for Tech as the Longhorns' second-stringers got themselves on the board on a one-yard TD run by RB Keilan Robinson to go up 70-28.
Tech would put together a nice drive, and third-string QB Donovan Smith would come in and take it in from one yard to close it to 70-35.
A lot of questions will be raised in the next couple of days about Matt Wells and this defense and what exactly happened and went wrong. We will also see how serious the injury to Shough is and if they will now need to rely on Colombi going forward.
The Red Raiders are on the road once again as they travel up to Morgantown next weekend to take on the Mountaineers of West Virginia with kickoff set to go at 2:30 p.m. on ESPN2.