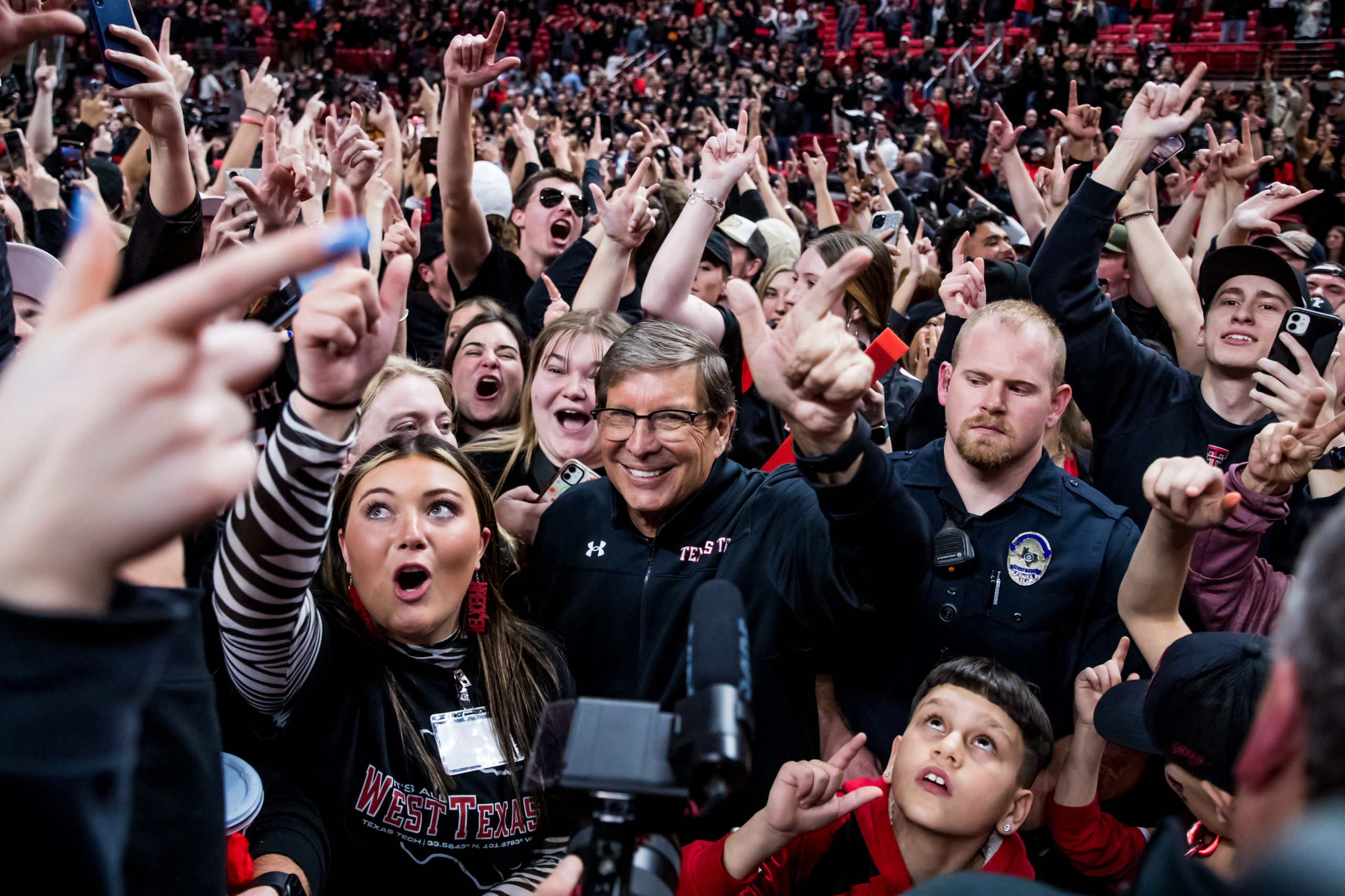 Texas Tech is in a tough spot. There's no way to get around that. Heading into Allen Fieldhouse to face off against No. 3 Kansas, the Red Raiders have anywhere between a 1.3 and 4.8 percent (depending on current vs. predictive measures) chance of making the tournament, per T-Rank. They need a miracle.
Let's start with the easy part- here are some results that would almost certainly cause Texas Tech to miss the tournament (Odds of a bid < ten percent):
Losing to the Jayhawks, beating Oklahoma State, and then not winning more than two games in the Big 12 Tournament.
Losing to Kansas, losing to Oklahoma State, and then losing in any round of the Big 12 Tournament.
Beating Kansas, but losing to Oklahoma State, and then losing any time before the semi-finals of the Big 12 tournament.
In other words, a loss tonight would all but eliminate the possibility of Tech getting an at-large bid, although things get a little murkier with a win tonight. Here are a few situations where Tech would be barely in or out depending on how the rest of the bubble shapes out (Bid percentages between ten and 60 percent):
Losing to Kansas, beating Oklahoma State, then making the Big 12 Championship Game before losing.
Beating Kansas and Oklahoma State, but losing the first tournament game to West Virginia.
Beating Kansas and Oklahoma State in addition to West Virginia in the Big 12 Tournament, but getting blown out by Kansas in round two (which would hurt efficiency metrics). Losing in a close game would also likely place them in this situation.
Finally, here are the situations where the Red Raiders would almost certainly be in the NCAA Tournament (bid odds >60 percent)
Win the Big 12 Tournament, regardless of how the last two games go (auto bid).
Beat Kansas and Oklahoma State, then win against both West Virginia and either Kansas or Texas in the Big 12 Tournament.
Additionally, there are teams that Texas Tech should be rooting for and against. In general, Tech wants every possible team that is close to the bubble to lose and every tournament-level team that is on top of a single or low-bid conference to win their conference tournament. The former is pretty self-explanatory, but the latter is more complicated. Basically, a team like Houston losing to UCF or SMU in the American conference would hardly affect Houston, but it would force them to take up an at-large bid, whereas winning the conference tournament would keep them as the auto-bid recipient of the American conference. Gonzaga, Saint Mary's, San Diego State, UCLA, and Arizona are also teams that Tech would prefer winning their respective conferences.
The main bubble teams that Tech should be rooting against are UNC, NC State, Pittsburgh, Arizona State, Wisconsin, and Utah State. All of those teams cannot afford to lose a game in the final week and/or bow out early in their conference tournament. Arizona State and UNC need multiple wins to continue building their tournament cases, while NC State cannot afford to lose to Duke tonight. The big advantage that Tech has is that they can essentially knock Oklahoma State off the bubble while bolstering their own resume on Saturday, and can pick up a similar-level win over West Virginia in the Big 12 Tournament next week, which would both help their own case and possibly position themselves ahead of other Big 12 teams in the eyes of the committee. Less important but still relevant games include those involving Oklahoma (more wins from them keeps the home loss at a Q2 level and puts the road win in Q1 territory) and Iowa State (who are in danger of falling out of the top 30 in NET). Basically, root for non-West Virginia and Oklahoma State Big 12 teams, root for Duke (yuck), and take care of business against Kansas and Oklahoma State. Do all that, and we'll talk again in a week. If not, the NIT wouldn't be that bad considering Texas Tech's 0-8 start to Big 12 play.