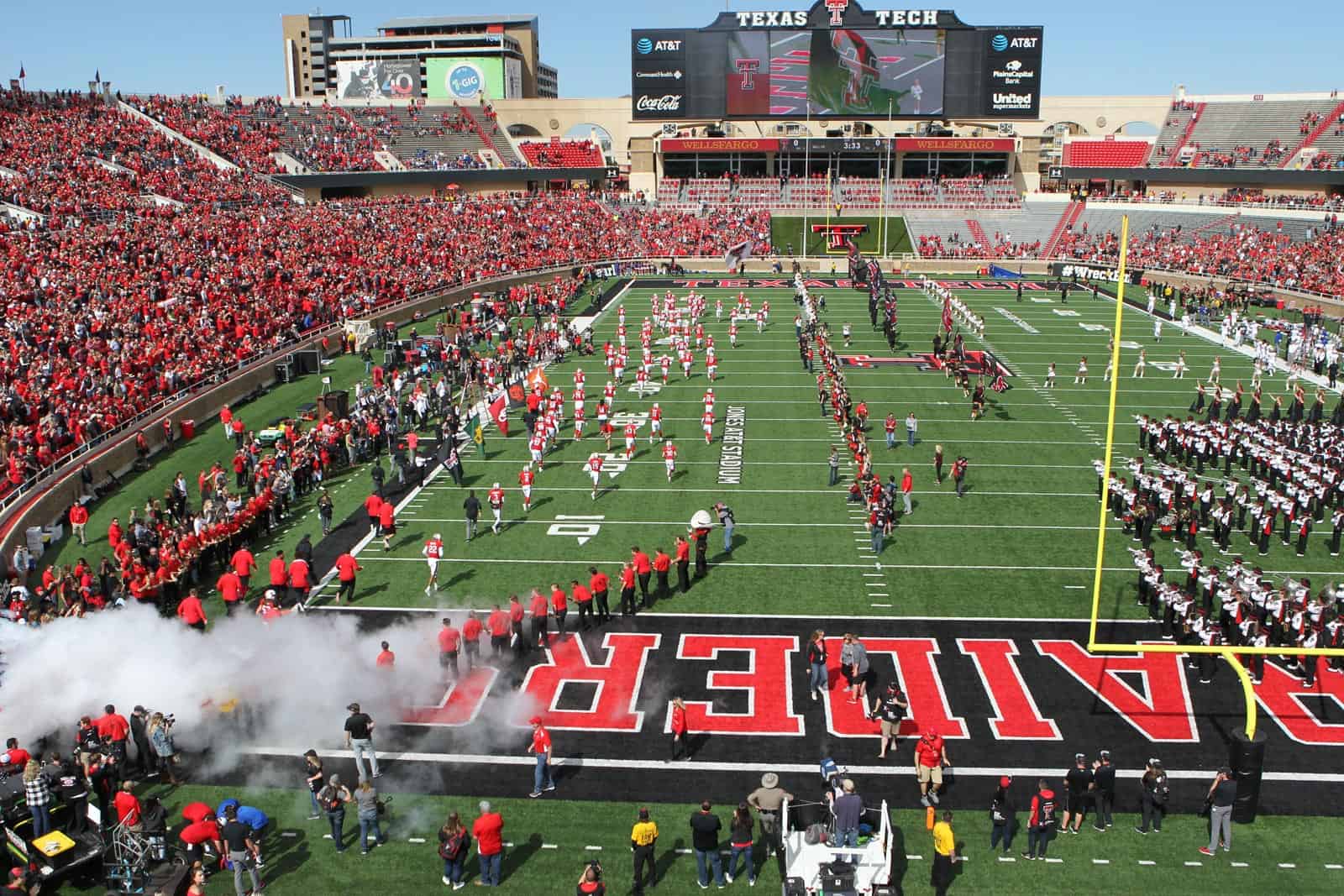 Photo CC: Michael C. Johnson-USA TODAY Sports
The long-awaited kickoff to the 2020 Texas Tech Football season has finally arrived. The emotional roller coaster every college football fan has endured thus far is about to be rewarded with major conference games kicking off this weekend. With the condensed, 10 game schedules for Big 12 teams, Texas Tech has its lone non-conference foe, Houston Baptist, coming to The Jones to begin the year. The Houston Baptist Huskies, hailing from the Southland Conference, started their season last week falling to North Texas in Denton by a score of 57-31. The Huskies defense was almost non-existent in the contest, allowing UNT a school-record 721 total yards, 361 through the air & 360 via the rush. The offense put up a respectable 31 points, albeit 14 coming in the fourth quarter while already trailing by 40.
Saturday's contest reunites a trio of familiar faces in Lubbock from the Houston Baptist coaching staff. Offensive coordinator Zach Kittley, offensive line coach Jared Kaster, and special teams/running backs coach Tyler Schovanec, all have history coaching and/or playing for the Red Raiders previously. These connections between the schools allowed for a late summer schedule change after all conference schedules were disrupted due to effects from COVID-19. The Red Raiders have faired very well historically against FCS opponents, posting an overall record of 23-1. Texas Tech also has an active 11 game home non-conference winning streak on the line and has lost just two such games since 2000.
Having just one game to prepare for Big 12 play, this matchup is about more than what the scoreboard shows after 60 minutes. Tech begins their conference schedule hosting in-state rival UT in two weeks. With new faces on both sides of the ball from incoming grad transfers, veterans returning from injuries, and freshman hoping to make an immediate impact, Saturday's game is as important as any other this year. One glaring area of improvement to be made from last year's 4-8 squad is the 3rd down defense. Last season the Red Raiders ranked 91st in the country in this area, improving there will be pivotal for Keith Patterson's defense to take a step forward. On the offensive side of the football, quarterback Alan Bowman is back from injury for the second year in a row & with a full year of the Wells/Yost scheme under his belt, will be looking to propel the offense forward from last season.
The contest serves as a good opportunity to assess some of the new off-season installs versus a real opponent, as well as establishing chemistry that only live-action can do for both the offense and defense alike. Tech should have no issue moving the ball at will on offense & should be expected to put up a slew of yards and points. On defense, the secondary should have plenty of opportunities to solidify coverages and assignments as the Huskies attempted 62 passes a week ago vs UNT. In the end, Tech outmatches HBU on both sides of the ball to begin 2020 1-0 while the Huskies drop to 0-2.
Prediction: Tech 52-13
Be sure to follow @gunsupnation on Facebook and Twitter for the latest Texas Tech Athletics news