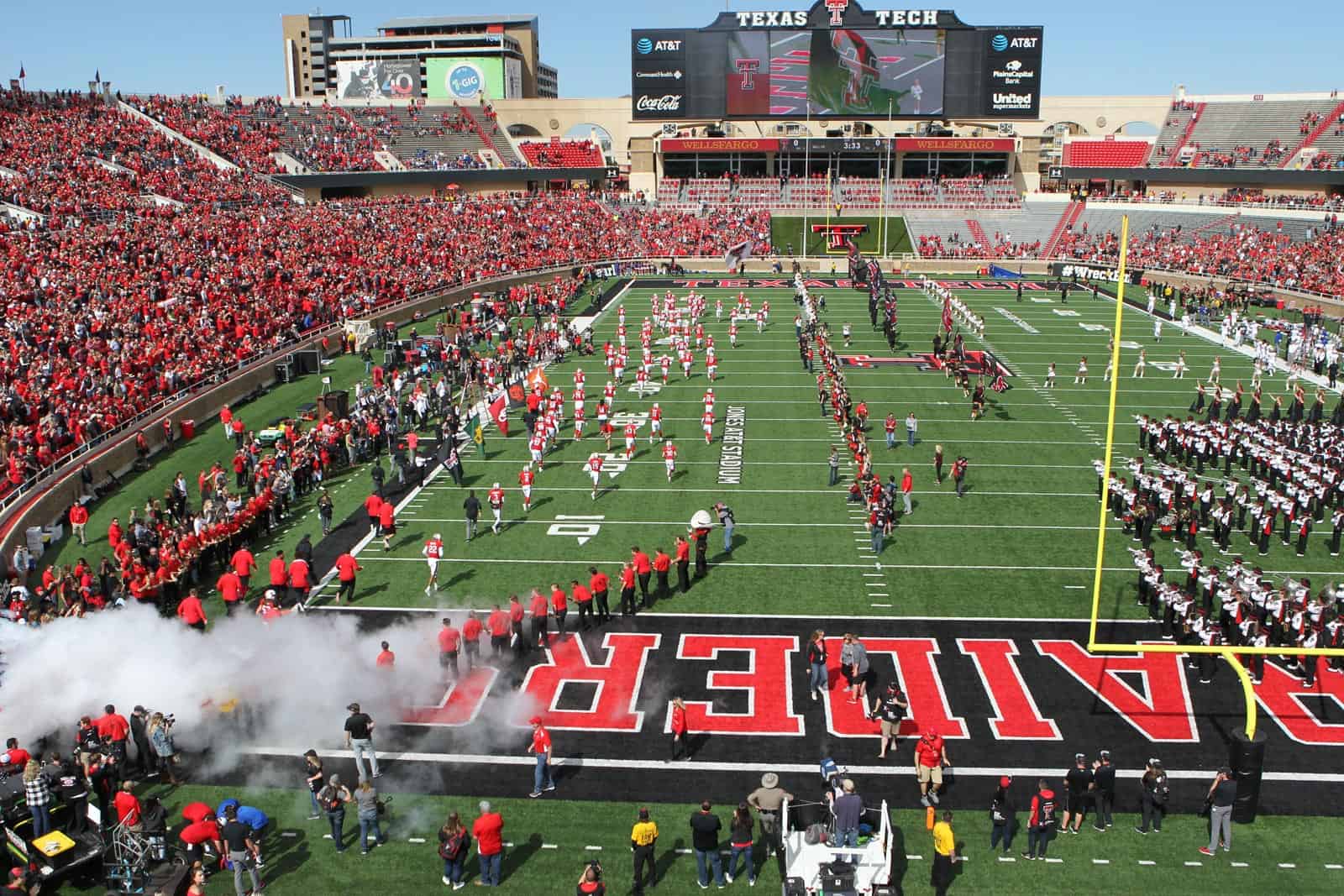 Photo cc: Michael C. Johnson-USA TODAY Sports
Heading into week two of conference play, both Kansas State and Texas Tech outperformed expectations last week against the top two teams in the Big 12. Kansas State went to Norman and put up 24 unanswered points in the final 17 minutes to stun #3 Oklahoma. Texas Tech lost to Texas in heartbreaking fashion, allowing a 15 point lead to disappear in front of their eyes in only three minutes. Both games saw the losing team have a 98%+ chance to win the game at some point according to ESPN's win probability metric. There's a case to be made for this game being an emotional letdown spot for both teams alike. However, there's also reason to think that both teams exceeding expectations a week earlier could provide confidence for each squad going into a winnable game for each team.
Turnovers and special teams played a large role in both team's games last week and always stand a chance to determine the outcome in a close contest such as Saturday's. Through two games, Kansas State has a +6 turnover margin and has blocked two punts as well. The Wildcat defense intercepted Heisman hopeful Spencer Rattler three times and blocked a punt in the middle of the fourth quarter that led to a game-tying touchdown. The Red Raiders had a wild day in the area of special teams and turnovers as well. Tech recovered an onside kick early but allowed the Longhorns to do the same late in the fourth quarter that led to the game-tying score forcing OT. Also contributing to the constant momentum-shifting contest was both teams blocking punts that led to touchdowns. Unlike Kansas State, the Red Raiders were on the wrong end of the turnover margin. Alan Bowman had three costly interceptions in the contest, one immediately following Tech's successful surprise onside kick. Turnovers and special teams will surely be an emphasis for both teams heading into Saturday with the understanding that one play in this area could win or lose the game.
Texas Tech's defensive play improved dramatically last week compared to the showing displayed against HBU. While still having room for improvement, the defensive line showed a ton of upside against a solid Longhorn offensive line, in turn helping the secondary play; overall the defense limited Sam Ehlinger, one of the nation's top QB's, to only 262 yards passing. The Wildcats present another tough task as they have their own veteran QB in Skylar Thompson. Much of K State's offensive success against the Sooners came off of big plays. Deuce Vaughn had a field day compiling 129 yards receiving on just four catches & Keyon Mozee hauled in a 78-yard reception as well. Tackling the elusive RB Vaughn in open space will be a task in and of itself, but the Tech secondary will need to limit chunk plays in order to keep the Wildcat offense in check.
Kansas State's defense might be the unit that decides Saturday's contest. If they can muster up another four turnover performance and keep Tech's rushing attack at bay like they did Oklahoma's last week, the Raiders could be in for a long day. Holding the Sooner offense to just 62 yards in the final quarter, their defense fueled the 24 point comeback by completely stifling Lincoln Riley's dynamic offense. Luckily for Texas Tech, their own aerial attack looked much more lively against Texas than it did in week one. Interceptions aside, Bowman established a good connection with his top three WR's in Ezukanma, Carter, and Vasher. The trio combined for 242 yards on 18 grabs and posted four touchdowns. Utilizing Ezukanma's & Vasher's size advantages along with Carter's playmaking ability over the middle will give Bowman and the Tech offense the best chance for success the rest of the season.
Texas Tech has dropped four straight contests to Kansas State and has not won a game in the "Little Apple" since 2008. Both programs are in their second year under the helm of their respective coaches and own a 1-1 record. With both teams coming off of different ends of emotional finishes, motivation and the ability to move on from last week will be crucial for the outcome of this game. Expect the contest to come down to the wire as it looks to be very evenly matched in all three phases. Limited capacity or not, Manhattan is a tough location for any Big 12 team to leave victorious, let alone serving as the Red Raiders' first road contest this year. The Wildcats will lean on their defense and veteran QB late to close out Texas Tech in a close one.
Prediction: Kansas State 38 – Texas Tech 31