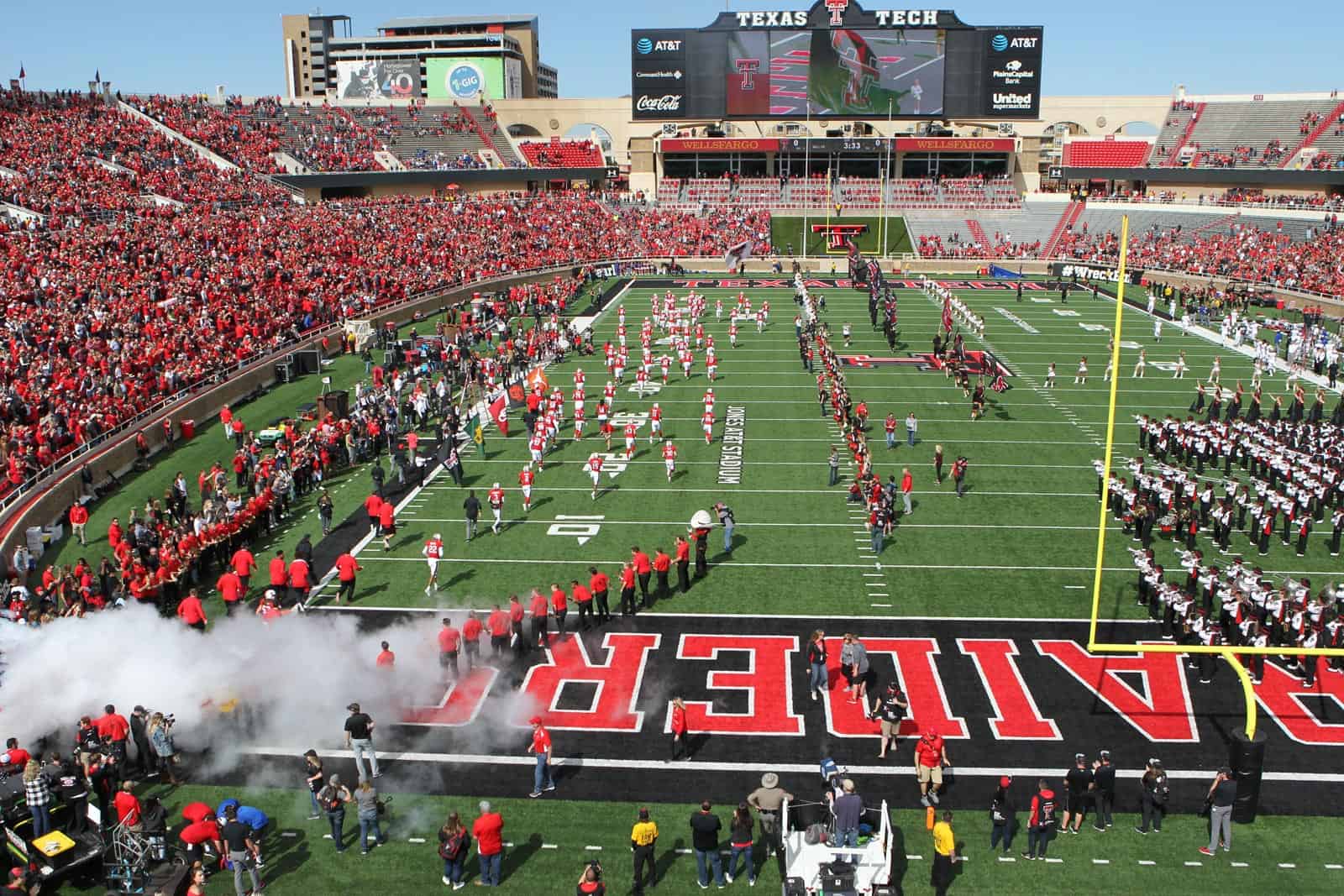 Photo cc: Michael C. Johnson-USA TODAY Sports
After two consecutive conference road games, Texas Tech comes off a bye week with two weeks of preparation as they play host to West Virginia. The extended time off should help transition in new starting quarterback Henry Colombi who was named the starter last week after taking over in the second half against Iowa State. After an anemic offensive performance in Ames where the Red Raiders mustered up only 270 totals yards, they will now face one of the toughest defenses in the conference through four weeks.
West Virginia travels to Lubbock with a 3-1 record and their only loss being on the road to now #6 Oklahoma State. At the helm for the Mountaineers is a familiar face for Red Raider fans in that of Jarret Doege, a West Texas product whose brother, Seth, played for Texas Tech from 2008-2012. Doege leads a balanced attack for the Mountaineers, averaging 189 yards rushing and 277 yards passing per game. With both West Virginia and Tech in their second year under their respective coaches, this game feels that much more important for Matt Wells & Co. With a loss Saturday, just repeating last year's mark of two conference wins appears like an uphill battle.
When West Virginia has the ball, it will be a version of a balanced Air Raid attack. Headed by Jarret Doege, the Mountaineers offense doesn't have a single talent that immediately jumps out off the page. He doesn't really push the ball down the field, as evidenced by the fact he's only surpassed the 300+ yard passing mark in one game, despite the fact he has attempted at least 35 passes in 3 of 4 games this year. He also has thrown interceptions in 2 of the 3 Big 12 games in this young season. Can this be the opportunity where the Texas Tech passing defense gets right? Currently, the Red Raiders are dead last in total defense, surrendering 499 yards per game, and dead last in passing defense at 335 yards per game.
One of the key reasons for the lack of an explosive passing game is because they have a strong running game. The West Virginia rushing attack ranks 2nd in the Big 12 at 189 yards per game. The formidable rushing game is led by Leddie Brown. The junior running back currently has 515 yards and averaging 6.4 yards a carry. Texas Tech is going to have to force West Virginia to play behind the chains. Currently, the Red Raiders rank 56th in the country in tackles for a loss per game, averaging only 5.3 a game. For comparison, West Virginia's defense averages 9.3 tackles for a loss per game (ranked 8th in the country). If the front seven of the Red Raiders can keep West Virginia in 3rd and 7+ range for much of the game, it gives Colombi and Company a great chance to win.
West Virginia is touting the #1 defense in the country in yards allowed & also rank #5 in the nation with 16 sacks. If the Red Raider offense doesn't come out ready for a battle, this defense could make Henry Colombi's first TTU start less than memorable. Anchoring the d-line for the Mountaineers is reigning Big 12 newcomer of the week, freshman Akheem Mesidor, who has four sacks through as many games alongside 15 total tackles. Tech will need to be more creative in this week's play-calling and take more downfield shots if they wish to keep Colombi from seeing constant pressure.
The Red Raider ground game is in need of a major bounce back from its 58 yard showing against Iowa State. Xavier White and SaRodorick Thompson both have the ability to create big plays & will be leaned on by Colombi not only in the ground game but also as check-down options when throwing. The Mountaineer's defense has made life on opposing quarterbacks miserable so far this season. Aside from the sack numbers, they have more interceptions than passing TD's allowed, only give up 149 passing yards per game, and the longest reception they've allowed thus far is just 47 yards which ranks 14th in the country. With two weeks to prepare and a familiar face from Utah State taking snaps, this game seems to be the most important yet for Tech offensive coordinator David Yost after the dud at Iowa State.
Prediction: 
All signs for this matchup point to a West Virginia victory in which they control the game up front defensively and dominate time of possession when on offense with their balanced attack. However, aside from Oklahoma State, who was playing with a backup quarterback, the two conference victories have both come against bottom-half teams. Baylor was playing in just their second game of the year and first road contest of the season and Kansas is simply Kansas. There's no doubt that the Mountaineer's defense is very talented and has played phenomenal through four games. Will they be a top-five or even top ten defense when the season is over? Unlikely. With that said, this feels like a "get right" game for Texas Tech coming off an embarrassing performance against Iowa State and having two weeks to prepare. Colombi has looked capable of leading the offense in both appearances so far this season. The Red Raiders squeak by in a close one.
-Trevor Williams