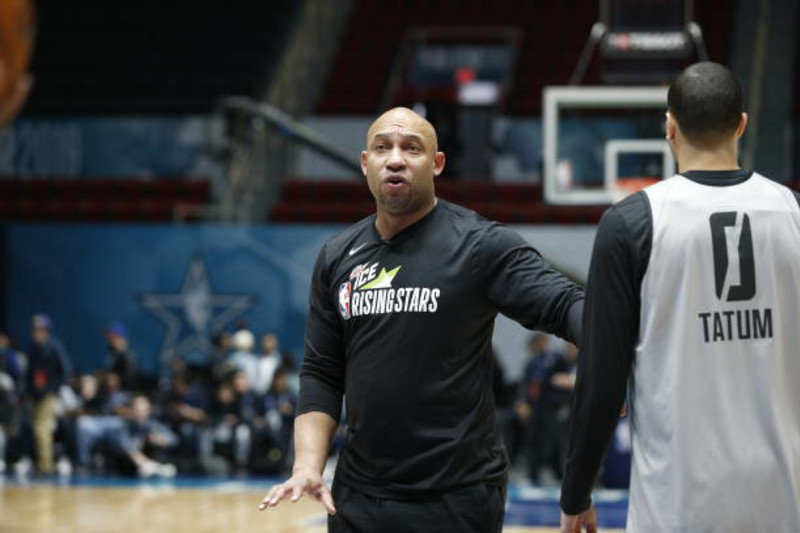 Darvin Ham was integral to the growth of Texas Tech Basketball as a player. As a member of the Tech basketball program from 1993-1996, Ham was a key component of the 1994 and 1995 teams that won consecutive Southwest Conference and SWC Tournament Championships. The 1995 team would reach Tech's first-ever Sweet Sixteen and paved the way for the future success of the program, as the construction of a world-class facility with the United Spirit Arena followed soon after. It is hard to think Tech would have been attractive enough to land coaching legend Bobby Knight without such a facility. The modern successes of the Texas Tech program have plenty of Knight roots, but it was Ham's teams that first proved you could win big in Lubbock.
Dunks like this were Ham's specialty. He won the college slam dunk contest and would compete in another during his NBA playing days. His thunderous throwdowns made him a crowd favorite and earned him nicknames like the "Ham Slamwich" as he energized each team he played for with his intense style of play. Ham would ultimately play for eight seasons in the NBA and has arguably made an even bigger mark on the league as a coach. He has a sterling reputation for player development, having coached names as big as Kobe Bryant and Giannis Antetokounmpo. It is not a coincidence that the teams he coaches for have flourished. In fact, his two most recent coaching stops are currently playing each other for a spot in the NBA Finals. It is not a matter of if Ham will be an NBA head coach, but when.
Ham was also very nearly Texas Tech's current head coach. Had Mark Adams followed Chris Beard to Austin, it is likely that Ham would have been a clear choice. He would have been a very good option, as Darvin Ham is the type of person who is successful in everything he does. Perhaps he will find his way back to Tech and/or Lubbock at some point in the future, but he has already made an indelible impact on Red Raider basketball and continues to make his mark on the NBA. Ham is a Texas Tech legend in every respect, and the program would not be where it is without him. The echoes of the Ham Slam are still heard to this very day.