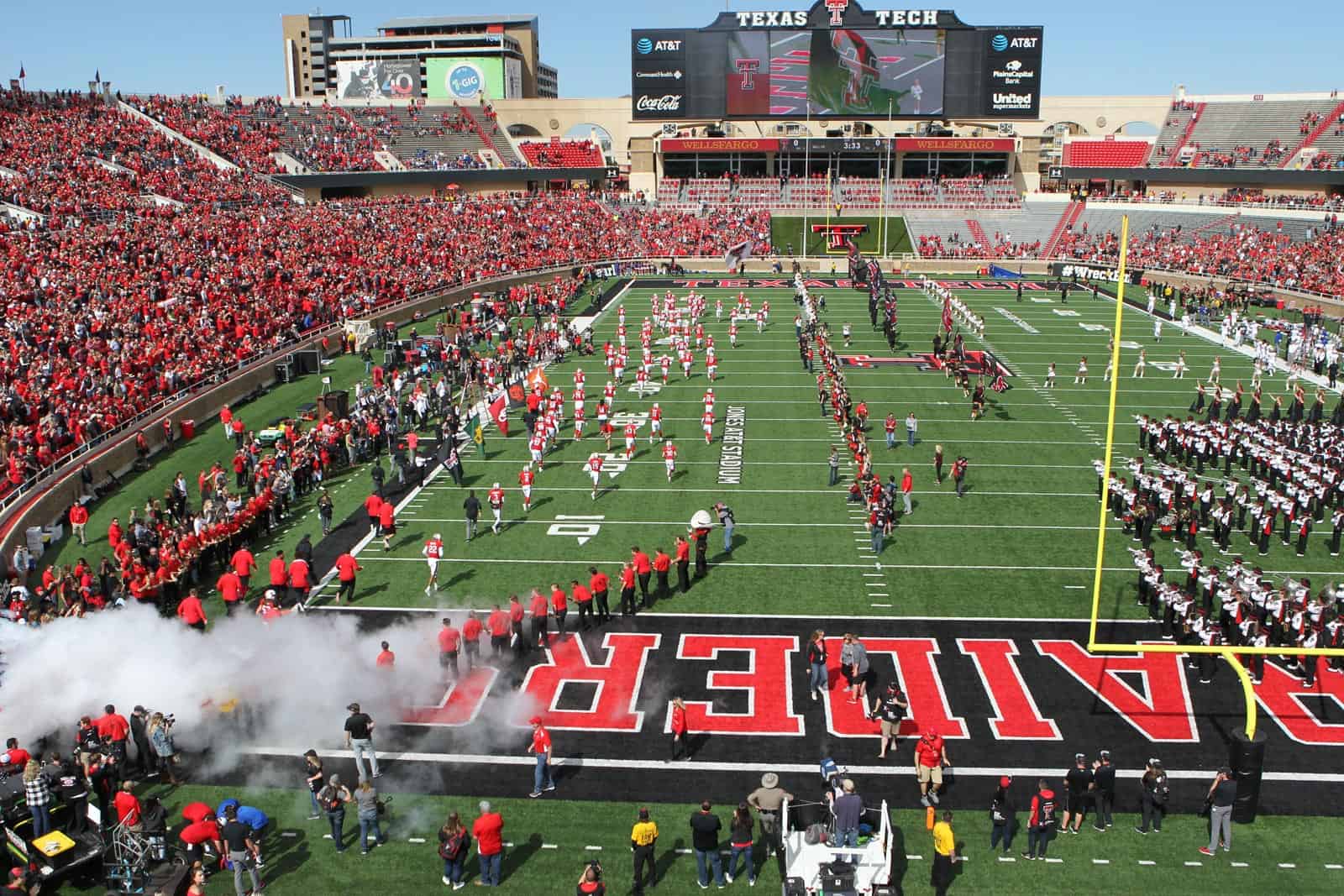 Photo cc: Photo cc: Michael C. Johnson-USA TODAY Sports
Senior Day is upon the Red Raiders, capping off the 2020 season at home against the Kansas Jayhawks. In a year that had some questioning if there would even be a season, Texas Tech has been fortunate enough to not have any postponements or cancellations due to Covid-19. However, perhaps the biggest absence of the season due to the virus will occur this Saturday with Head Coach Matt Wells reportedly testing positive on Thursday. This leaves Defensive Coordinator, Keith Patterson, in charge of the team per Texas Tech Athletics.
The Jayhawks travel to Lubbock still searching for their first win of the season with just two games remaining. The Les Miles project hasn't gone exactly the way Kansas brass must've hoped thus far in year two of the former National Champion's tenure with the Jayhawks. Kansas is just 3-16 so far under Miles and risks going winless in a season for the second time in the last six years if they fail to beat either Tech or The University of Texas next week. Under normal circumstances, going into a game as nearly four-touchdown favorites may not generate much motivation to get up for the contest, this weekend will be different.
Last year, the Red Raiders were the victim of the Jayhawks' lone Big 12 win. The Jayhawks torched the Tech secondary for 415 yards, but the dagger came with a blocked field goal blunder by the Red Raiders that allowed the Jayhawks a second chance to kick and win the game, which they did. Needless to say, motivation should not be an issue in Lubbock this weekend whether it be revenge from last year, playing for Coach Wells, or the Seniors getting their last opportunity at Jones Stadium, expect a fiery performance from Tech in the season finale.

Offensively, Kansas will provide the least resistance of any opponent Tech has faced so far this season. The Jayhawks rank last in the Big 12 in both yards per game and points per game, edging out only Vanderbilt in points per game across all five power conference teams. Kansas is especially challenged in the run game where they average just over 100 yards per game and have eclipsed this mark just once in their last five contests. This comes after star running back, Pooka Williams, opted out of the 2020 season after their fourth game. The lackluster attack on the ground will be welcomed by the Red Raider defense which ranks last in the Big 12 in total defense and has allowed 195 rushing yards per contest.
In the passing game, Kansas' struggles begin at the line of scrimmage where they are nearly incapable of keeping their quarterbacks upright. Through eight games they have allowed 42 sacks that have resulted in 234 lost yards. Expect Tyree Wilson to make his presence felt in the Jayhawks backfield this Saturday on passing downs. When the QB's are able to attempt a pass, they are completing just 54% of them, with more interceptions (10) than TD's (7). They have only three receivers with 100 yards on the year, compared to Tech's eight. Zech McPhearson has shown his nose for the football this year with four of the defense's five interceptions, as well as two of the team's five fumble recoveries. Don't be surprised when he finds ways to disrupt the Kansas offense Saturday with his activity in the secondary.
The offensive play calling last week still very much read very similar as to what the Texas Tech offense has looked like all season. However, Tech did take more shots down the field against Oklahoma State, and while there weren't a ton of actual connections, it was promising to see the Red Raiders give their sky-scraper tall receivers an opportunity to make a big play on the ball in a one-on-one matchup. In a coming-out party for Erik Ezukanma, he had 7 catches for 183 yards and 2 touchdowns. Kansas doesn't have a playmaker that can stop him, so expect another big game from Ezukanma.
The Red Raiders broke the 40-point mark for the first time since September against Texas this season. While the passing game did seem to open up, the rushing attack is what really drove the offense last week. SaRodrick Thompson and Xaiver White combined for 231 on 26 carries, including touchdown runs of 24, 59, and 70 yards. Both of these backs have shown the ability to explode for a home run all year, and the Kansas defense certainly doesn't present nearly as talented of a front 7 as Oklahoma State did.

It doesn't matter the defense stat examined; the Jayhawk defense is miserable. In their last 4 games, the Jayhawks have given up 55, 52, 62, and 59 points. The least amount of points this defense has allowed in a game is 38 points. On the season, Kansas has surrendered 49.8 points per game, 469.6 yards per contest, and 6.72 yards per play on defense, all of which rank 127th, 111th, and 116th nationally, respectively. While the Red Raiders might be a little flat after coming off such a closely contested game against a tough Oklahoma State team, the offense should be able to have its way against the woeful Kansas defense.
Predictions:
Texas Tech has every reason to be motivated for this matchup & the gap of talent and production between the two teams is plentiful as well. In a matchup that could easily be looked over when stuffed in the middle of a Big 12 schedule, being that it's the finale, Senior Day, and coming off an embarrassing performance the year prior, the Red Raiders will not be overlooking them here. This game should be over by halftime if all goes as planned for Texas Tech.
Texas Tech 45, Kansas 14
– Trevor Williams
In what should be a beautiful Lubbock fall Senior day, even without Coach Wells, the Red Raiders avenge last year's strange ending to Kansas and finish the season 4-6.
Texas Tech 52, Kansas 21
-Andrew McCleary